VALERIE COLLYMORE FINE ART
Impressionist Oil Paintings from
America and France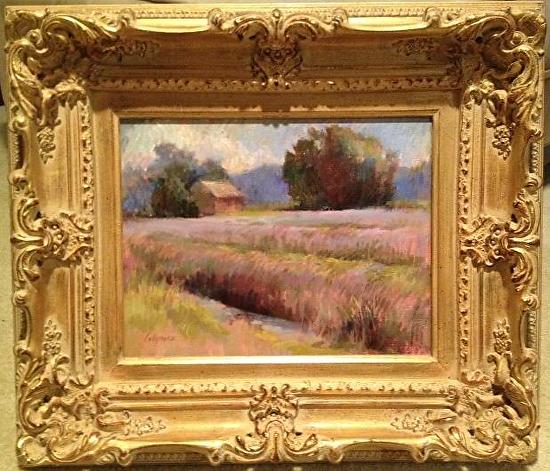 "Champs de Fleurs" * Oil on Linen * 11" x 14" * 20 x 23" frame
CURRENT EXHIBIT
"Memories of the French Riviera and Provence "
A one-person show
Fine Art Oil Paintings
in the French Impressionist tradition
April 2-26, 2015
Fountainhead Gallery
625 W McGraw Seattle WA
Opening Reception
April 4 5-7 pm
________________
Tiger Art Tour Hits Puget Sound
SHOW YOUR STRIPES

"Ten tiger statues painted by prominent local artists"
will head across the Puget Sound region this summer
to celebrate the return of tigers to Woodland Park Zoo
and raise awareness for tiger conservation.
Press launch under the SPACE NEEDLE
Thursday 9:30am - 10:30am, April 16, 2015
LOCATION OF OUR TIGER
By French Impressionist Artist and Tiger Artist
Valerie Collymore
with co-artist
(Click here for process video put together by
co-artist Alexander Sapoznick on YouTube)
Bellevue Square, in downtown Bellevue, WA
Presented by the Bellevue Collection and
Kemper Freeman Development
May 18th - early July 2015
Can you find the small pink heart
and the 2 subtle suggestions of a heart
on OMZIG the Tiger, when you see him in person?
Hidden between the stripes, can you find tigers,
a tiger cub, a fertility symbol and a zookeeper?
To win prizes
visit
http://www.zoo.org/tigers/ihearttigers#.VS85Cc5h2X0
and find out how.
Omzig the Tiger in my garage, getting ready for his launch.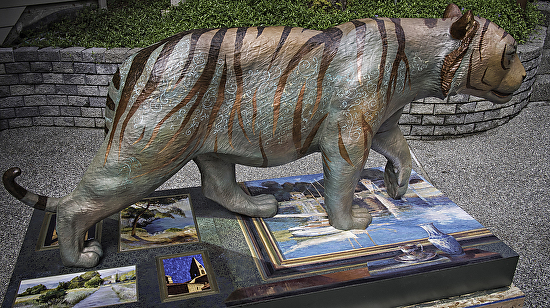 Omzig the Tiger in my driveway waiting for the movers to take him to the Space Needle press launch on April 16
_________________
New Show Preview Article in
SOUTHWEST ART MAGAZINE - April 2015
Click image to read Show Preview article on Collymore's work by SWA Magazine editorial staff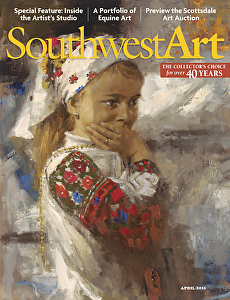 Featured Landscape artist in
SOUTHWEST ART MAGAZINE - February 2015
Wide Open Spaces
Meet a dozen painters exploring the artistic opportunities in the landscape.
please click on image to view feature article
_____________________________________________________________
American Impressionist Society

American Women Artists
Bellevue Arts Museum / Board of Trustees

California Art Club

Oil Painters of America
Onyx Fine Arts Collective
Puget Sound Group of Northwest Artists / Signature Member
" Cap Ferrat, Seaside Walk" * Oil on Linen * 16"x20"
Winner - Finalist - Boldbrush May 2014
http://faso.com/boldbrush/winner/66710
© Copyright - All rights reserved.
Written content and images of paintings may not
be borrowed, reproduced or reprinted
without the written permission of Valerie Collymore
________________________________________
RECENT EXHIBITS
"Small Works from the French Riviera"
A Group Exhibit
Dec 2014
Atelier Bouterin & Co.
St. Remy de Provence, France
"Glancing Back, Moving Forward"
A Group Exhibit
Dec 4, 2014 - Jan 25, 2015
Fountainhead Gallery
625 W McGraw Seattle WA
"Impressions of the French Riviera and Provence"
A one-person exhibit of 20 fine art impressionist oil paintings
depicting scenes from the French Riviera and Provence
April 2014
Fountainhead Gallery
625 W McGraw Seattle WA
"14th Annual National Juried
American Impressionist Society Exhibit"
October 2013
The M Gallery of Fine Art
( Now the Principle Gallery )
Charleston, S.C
___________________________________________________
ART INSTRUCTION
Private and Small Group Art Sessions
tailored to your unique goals.
Bellevue and Seattle
( 1 opening in advanced small group class
on alternate Wed. afternoons )
Feb 6, 20 and Mar 6, 20, 2015
FILLED
10am - 1pm
ArtEAST Art Center
95 Front St N, Issaquah, WA 98027
(425) 392-3191
4 Session Oil Painting Intensive Workshop
Move Your Art Forward Quickly!
and
Begin a new collection of works.
http://arteast.org/2014/12/pt1-oil-painting-intensive-move-art-forward/
April 17, 24, May 8, 15
FILLED
10am - 1pm
Atelier Collymore
"Your Group of 4 for 4 private sessions"
Oct 27, 2014 - May 2015
Monday mornings
Womens University Club of Seattle
- for club members and their guests -
_________
Save the date: Intimate Impressionism
From the National Gallery of Art
October 2015 - Jan 2016
Seattle Art Museum
Smaller scale works by Renoir, Monet, Cezanne, Van Gogh,
Degas, Pissarro, Bonnard, Gauguin among others.
_____________
SOUTHWEST ART MAGAZINE - April 2014
Click image to read Show Preview article on Collymore's work by SWA Magazine editorial staff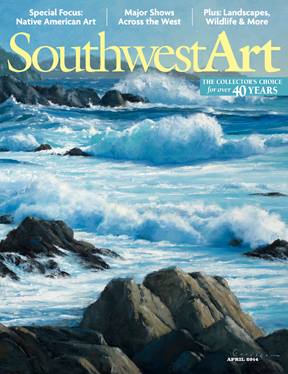 SOUTHWEST ART MAGAZINE - October 2013
Click image to read article by SWA editorial staff on the prestigious 2013 American Impressionist Society annual show,
_______________________
RECENT SELECTED REVIEWS AND ARTICLES
Rintala, L. " Show Preview, Seattle, WA, Valerie Collymore, Southwest Art Magazine, April 2015
Gangelhoff, B. "Wide Open Spaces: Meet a dozen painters exploring the artistic opportunities in the
landscape", Southwest Art Magazine, February 2015
Graciela Matrajt. "Valerie Collymore: From Pediatrics to Impressionism", Profile Article, Association for Women in Science, Seattle Chapter, Newsletter, October 2014
http://us8.campaign-archive2.com/?u=0d1d587f8954649c07783a873&id=6a3ca54bad&e=cb1549e61a#profilearticlesRM
Kovack, Joe. "Show Preview, Seattle, WA, Valerie Collymore, at the Fountainhead Gallery", Southwest Art Magazine, April 2014
http://files.faso.us/19747/3345.pdf
http://www.southwestart.com/events/fountainhead-apr2014
"Seascapes, Rivers and Lakes", American Art Collector Magazine, April 2014
French American Chamber of Commerce, Pacific Northwest
LeNetworking at the Fountainhead Gallery featuring the artwork of Valerie Collymore and a lecture on French Impressionism by Virginie Blackmoor
http://www.faccpnw.org/single-news/n/save-the-date-le-networking-at-fontainhead-gallery-featuring-valerie-collymores-works/
Rintala, Laura. "Spotlight: American Impressionist Society", Southwest Art Magazine, October 2013
http://www.southwestart.com/events/ais-oct2013
"Collymore artwork headed for national exhibition in S.C", Madison Park Times, Aug.3, 2013
http://www.madisonparktimes.com/main.asp?SectionID=2&SubSectionID=311&ArticleID=28822
Collector Alert, Informed Collector Newsletter
http://faso.com/fineartviews/63784/valerie-collymore-lyrical-plein-air-paintings
___________________________________________
© Copyright - All rights reserved. Written content and images of paintings may not
be borrowed, reproduced or reprinted without the written permission of Valerie Collymore